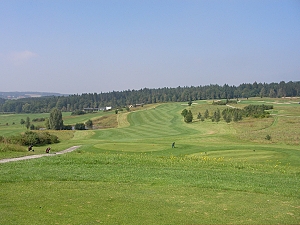 The Rhön is an area that is renowned for its wide views over the gently undulating countryside and this golf course sits right in the middle of it. It flows nicely with the terrain and fosters a feeling of freedom as the player navigates the wide playing corridors.

There are a few trees here or there, some bunkers and a little water, but they don't dominate the scene. For technically inclined golfers the course does not offer much, but it's a good fit for those who want to swing freely and enjoy sweeping views. There are also some shorter and narrower holes, but compared to many other courses they are still pretty generous.

There is another 9 holer on the site, this review is for the main course.