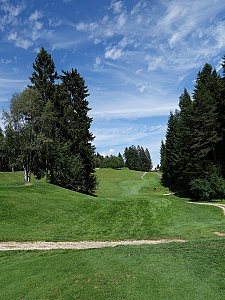 One of the few 18 holers in the high Alps. It is located on a plateau at an altitude of about 1250 meters and features surprisingly few mountain vistas. While it is not far from some of the most spectacular Dolomite ranges, the views are distant and the course more or less wooded.

That being said it is fun to play and many of the holes are short enough to tackle the tightness with a conservative strategy. Most holes are doglegs of some sort, so adventurous longhitters may find themselves restricted. However, there is a fair amount of variation, it's not just chutes through the forest.

Compared to most other Alpine courses the undulations are less severe, but a round at Petersberg is a good workout nonetheless. And the terrain provides quite a bit of quirk as well, so the entertainment factor is definitely there. And once the golfer gets over his expectations of mountain vistas, he will appreciate the natural beauty of this wooded plateau for what it is.