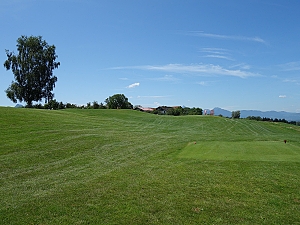 Germany's first reversible 9 holer is set on a plateau with views of various mountain ranges, which have lent their names to the two reversible loops as well as an additional 9 hole executive course. Hence there are 27 holes on a site that would ordinarily have accommodated either an 18 hole executive course or 9 full-length holes. The executive course was built to the same standards as the reversible and that was definitely worth it, because it is on full view when entering the property and it leaves a great first impression. The generally open - if somewhat undulating - terrain accommodates views over large parts of the course from practically any point.

The club has special days, when the reversible course can be played in both directions to form a full 18 hole round. On those occasions the course is by convention played first against the clock and has the two par 5s plus a driveable par 4 in the first three holes, before completing the loop on the other side of the plateau with three par 4s and three one-shotters. After lunch (to give the greenkeeper time to reset pins and tee markers) the clockwise loop then has the longer holes towards the end. Despite the difficulties that are inherent to a reversible layout, the holes tie together beautifully and there is not a bit of unproductive walking. Some of the holes are also completely different the other way round, even the par designation changes on one occasion. So the variability falls somewhere between that of a well-designed 18 hole course and that of a 9 holer.

While the reversible concept is the main talking point, there are other uncommon and perhaps slightly revolutionary configurations to observe. First off, the course is quite a bit shorter than usual, even compared to other par 70s. This means that average players will hit more different clubs than on a regulation sized course, while longhitters will spend a lot of time with their wedges. And second, the greens are very firm and will have to be approached like links greens, which means there is a real ground game in place. Getting near the green is rarely a problem, but then pitching on and holding the ball on the putting surface or even near the pin is a huge challenge. Questionable short game skills will be exposed, but it is possible to wing it with the putter. The moderately undulating greens follow the concept of "easy two-putt, hard one-putt".

It will be interesting to see whether the reversible concept catches on. Patting certainly has made the most of it and provides a surprising amount of quality golf on its limited acreage. The plateau site affords nice 360 degree views and the remote location makes for a very relaxed atmosphere.