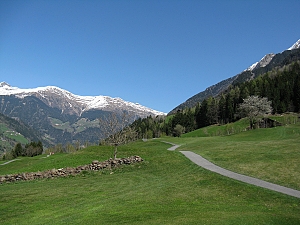 The location of this course in the Alps (even though it is at an altitude of only 650 meters) is chiefly responsible for its appeal. The Passeier valley, after which it is named, allows for a surprisingly long golf season. It is entirely possible to play on decent turf, while being surrounded by snow-capped mountains. Ski and golf on the same day is perhaps a bit of a drive, but theoretically possible.

The terrain is obviously severe and the consequence is a plethora of short par 4s, especially on the front 9. Even though they are often spectacularly carved out of the mountainside, there is some repetition in the playing strategies. The par 5s (one reachable in two for average hitters) and par 3s are great fun though, as are the longer par 4s. Some walking between holes was unavoidable, but in this grand Alpine scenery it doesn't feel like a trudge.

The relatively dry climate can lead to firm and fast playing conditions and there are certainly enough undulations to make every shot challenging. Walking the course is an exercise, but manageable with average fitness. The natural beauty of the high mountains more than compensates for the stiff climbs on 15 and up to 18 - the latter having recently been alleviated by the introduction of a bizarre belt conveyor! Other gimmicks include a barrier in front of the first tee that opens in ten-minute intervals and a small cable car from the 18th green up to the clubhouse.