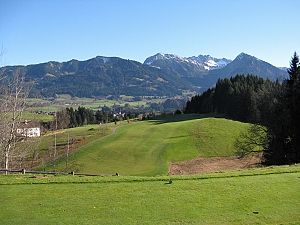 This is a really beautiful and exciting track, possibly the best mountain course in Germany. It is situated on the edge of an Alpine valley, so the views are often spectacular. Kurt Rossknecht's routing must be considered a stroke of genius due to the dearth of contiguous space. More than once it looks like the golfer has finally played himself into a dead-end, but the course keeps on winding its way forward between houses, barns, pastures, ravines and mountains. The architect even managed to create returning nines with hardly any backtracking or annoying green to tee walks, all the while negotiating some pretty wild terrain.

The holes themselves are also full of interest, although longhitters might feel a bit restricted with the driver. Average hitters with a bit of game can easily step onto the back tee and will then experience a course of similar length to what they are used to. The course starts off with a driveable par 4 from an elevated tee that is pretty accessible, but quickly ups the ante with the difficult tee shot on the second and then a par 5 with seemingly no place to go after a centered drive. Two holes later another very twisted par 5 appears and the back to back three-shotters at #15 and #16 are also not at all obvious to figure out. There's also another driveable par 4, albeit heavily defended this time and a bunch of good par 3s. The only flat hole is #17, which is also a bit of a stinker, whereas the last is quite ok. Still, this dramatic layout would deserve a better finale.

Other let-downs are the bunkering, which at times seems to be straight out of the RTJ school of parkland delights, and the greens could use a few more undulations as well. But between the breathtaking scenery and the quirky challenges befalling the golfer, these seem to be minor quibbles. Oberallgäu is like a heavyweight boxer: some of the detail work looks clumsy, but the punch is lethal.