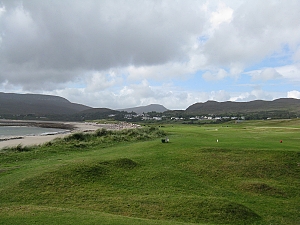 This is one of the very few places where golf is still played like 100 years ago. Nobody knows who laid those 9 holes out on the links or when exactly it happened. In fact, nothing much appears to have been done at all outside of fencing off a few green sites and creating sufficiently undulated putting surfaces within. Fairway lines and conditioning are determined by grazing animals, there's an honesty box for the greenfee and the makeshift clubhouse incredibly has showers and a lounge.

Like any ancient course it is perfectly playable in high winds, no modern contraptions have been added to make fairways smaller. It's not a bunkerless course but the sand traps are so few and far between that many a player will not even remember them. There is a burn on the final two holes, but it shouldn't ordinarily come into play except perhaps in a very strong headwind.

These types of 9 hole courses are normally designed to accommodate players going round and round again, until they get tired of golfing - which can potentially take many loops in a grandiose setting like this. However, the club found it necessary to add a practice hole, which disrupts the flow a bit. Natural and original courses should rarely be changed, but if one thing could be done here, then it is the creation of better connections between some of the holes.