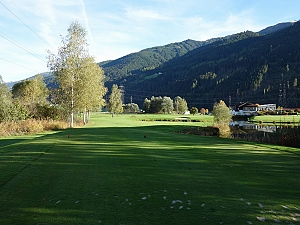 It's always difficult to find room for a golf course in the mountains. Many times the available sites are severely undulated, but in Mittersill's case there is a relatively wide valley, which is almost too flat to facilitate the creation of an interesting layout. Luckily the ubiquitous mountain scenery always carries the day even though the really high peaks are somewhat obscured by the foothills lining the valley's edges.

The front 9 are routed very well. Everything ties together seamlessly and the playing direction changes a couple of times to make the most of the 360 degree mountain views. In general the hole designs aren't terribly extravagant, perhaps with the exception of introducing a couple of wooden shacks as obstacles in the line of play. More conventionally, there are a number of ditches employed as cross hazards that are often surprisingly hard to carry. The back 9 is a bit patchier, as there are a couple of green to tee walks. Nothing really annoying, but an observable difference to the more organically flowing front 9. Perhaps the gimmicky 13th hole with its ridiculous length is the culprit, as it takes up a lot of the available maneuvering space. It would undoubtedly be a par 6 on courses with back tees, but Mittersill sensibly makes do with just two tees and so their par 5 actually has more yardage than half of Europe's par 6 holes from the members' tees. Other idiosyncrasies include waste areas (in the mountains?) and six par 3s on the card.

As can be expected north of the Alpine divide, the soil is not exactly sandy and combined with the elevation there is a great potential for saturated courses. While Mittersill sits at the better end of the loaminess range, it certainly wasn't designed for any kind of ground game. But in dry conditions most golfers should be able to enjoy it for what it is: a course thoroughly grounded in the surrounding landscape and with a few twists here or there. There was a bit of an appetite for "inhouse creativity" as evidenced by the shocking glass cube covering the clubhouse patio, but fortunately none of that went into the course design.