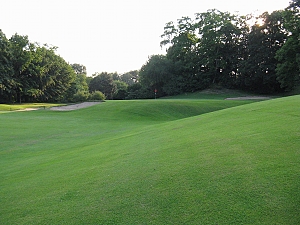 One of the oldest courses in Germany, although it is doubtful that much remains of the original 1909 layout by a Mr. Romb. The Colt & Morrison course had 18 holes in 1933, but 9 have since been lost to an Autobahn project. It's a parkland track with old trees on a fairly flat site that used to be in a fairly quiet spot outside of Cologne. However, the Autobahn and its very busy feeder roads create an unfortunate amount of traffic noise today.

Some classic design features are still visible, especially on the last three holes. However, for the most part modern concepts prevail - such as rough and tight, tree-lined fairways. The club could go a long way with a tree management program and undergrowth clearance. Seeing that the soil is quite good, some fun ground game options from beneath the trees seem entirely possible.

The routing and the green complexes are certainly competent, but they lack inspiration and variability. While the atmosphere is traditional and dignified, the actual golf just isn't exciting enough to overcome the traffic noise and the uniformness of the first few holes. There is also a par 3 course on the site and a driving range, taking some prime real estate away from the course.