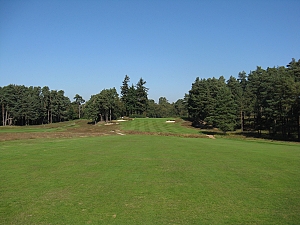 Tom Simpson lived near the course and was a member for years plus Croome's mentor, so it is no wonder that the course features a fair amount of quirk and places a premium on strategic options. Many tee shots require thinking and there are often vastly superior angles to be obtained for the approaches. The one thing that seems oddly absent from such a strategic gem is a world class ground game. While the sandy soil plays firm enough, the green complexes are for the most part too difficult to accommodate the running ball. The internal slopes tend to deflect rather than feed, so the aerial route is usually much safer.

The other slight drawback is that the course is not only bisected by a busy road that has to be crossed twice, but the two plots themselves do not offer the most harmonious flow of holes either. As such Liphook is a collection of good and great holes, but the total is somehow less than its parts. Which of course means that from a purely golfing perspective it is spot on, but there is little beyond the individual class of the holes. Something that ties all the holes together into a seamless experience that transcends the golf is missing. Be it charm, consistent visuals, a sense of journey or all of those combined.

Still, there is no denying that it is a first class layout and one of the most strategic to boot. The greens are one hell of a challenge, there are hardly any routine two-putts and the bunkering claims its victims as well. Even good putters will struggle to hole one here, which may or may not be a good thing. The land is rolling without being a particular struggle to walk and without producing too many unpredictable bounces. The set of five par 3s is exceptional, as they all require a different club. It is well worth playing here and great fun, too.