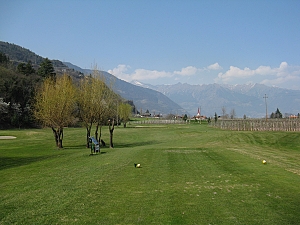 A nice, little nine-holer sitting in one of the lowest spots in the Alps, the Merano basin. The low altitude combined with the mostly sunny weather turns Lana's golf season into one of the longest in the Alps. As always in the mountains, space is at a premium, so the holes were basically cut into existing apple plantations. This does restrict play occasionally and necessitates a number of ugly safety nets.

Despite the beautiful setting Lana is not a spectacular mountain course, but a rather conventional affair. However, the golf itself is quite pleasing, some interest was designed into the relatively flat terrain. The routing is perhaps a bit on the short side, so average players can easily frequent the back tees. The greens are large and only very gently undulated, which is a good thing considering the break-neck speed they are usually kept at.

In most other locations the course would probably not attract much attention, but in the mountains any kind of golf is hard to come by. A professionally done golf course that doesn't overpower the average player while still providing enough variety and a decent golf season is certainly an asset in this region.