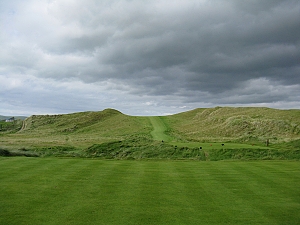 50 miles north of Ballybunion lies its perennial competitor for best in Ireland and with the recent opening of a nifty shortgame area Lahinch has upped the ante another notch. The pedigree from Old Tom Morris to Alister MacKenzie has always been epic anyway and the club is doing a good job preserving their original design intent. Which brings us to the beautifully anachronistic Klondyke and Dell holes and the criss-crossing of fairways, which stems from a time when golf courses were basically empty. It takes a set of strong principles to keep these holes in play when the club has turned into a commercial enterprise. Their litigation-friendly solution is creative: professional spotters man the dunes and direct play.

While everyone is looking forward to playing the ancient 4th and 5th, there are a number of great holes before and after, which utilise the dunesland just as well. Interestingly on such varied terrain, there are a few similar holes. The side by side par 4s at 14 and 15 would be great on most any course, but are merely solid here. The 3rd and 7th hole are also similar, but here in a positively exciting way.

Conditioning is that of a top links course, firm and fast through the green and true on it. Some of the bunkers are quite extreme, such as the upturned volcanoes on the 2nd and the pit at the bottom of a bottomless pit on the 6th. It's all fantastic stuff, from the panoramic tee boxes and the crumpled fairways to undulating green complexes, all the while avoiding some of the game's most awe-inspiring hazards.

Not the least of which is the exposed location, close to the Cliffs of Moher, which is not one of the calmest places in Ireland. Howling wind, repressive fog, driving rain and, yes, baking sun can appear out of nowhere - as indeed they can on any Irish course. But only Lahinch has found it appropriate to replace their barometer with weather-forecasting goats. However, the forecast for the golf is always top-notch, no goats needed.