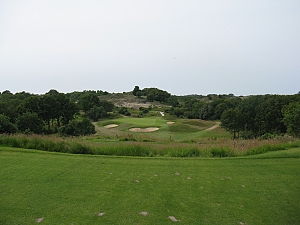 It does not quite look like a links, but it definitely plays like one. The dunes in the Netherlands are miles wide, so even an inland course can have all the classic links qualities save for the sea views. Of course the trees, that inevitably appear in the absence of salt water, must be kept in check and for the most part this is done admirably well at Royal Hague. Some specimen trees come into play, but there are very few places, where groups of trees interfere.

The defense of the course is the exceptionally undulated site that makes for some cliff-hanging holes and brings the ground game to life on firm and fast fairways. There is really nothing about this course that can be faulted, except perhaps that it's a bit clumsy for the second hole to return to the clubhouse (although that configuration might come in handy when playing extra holes in match play). The greens vary in size and are undulated to a point, but perhaps one or two really wild putting surfaces might have provided the icing on the cake.

The setting and the presentation of the course are impeccable, the routing flows as effortlessly as possible on such an undulated site and there is a variety of shots to hit, especially from close range. The one exception being the bunker shot, as there aren't very many such hazards to be found (although a number of natural sand areas provide additional opportunities). The routing dictates a considerable amount of blindness, but thankfully not of the ball-eating variety. The rough, on the other hand, can be penal in a few places, but for the most part it is managed well by the club.

Overall, a round at Koninklijke Haagsche is one of the best and most natural journeys to be had in golf. There is absolutely nothing artificial about it, even the clubhouse is hidden from view until the very last hole plays towards it.