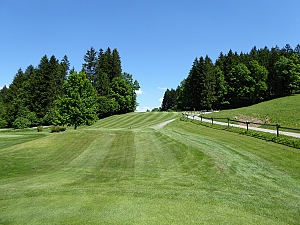 What a great 12 hole course! The routing of the front 9 is vintage Don Harradine as it flows elegantly over really difficult terrain and produces a plethora of interesting holes. Variation is exemplary with long, short, hard, easy, straight and bending holes running in all directions and yet returning effortlessly to the starting point. The first three holes of the back 9 are a continuation of that with a par 3 and back to back par 5s with strategic options. But then the horror starts.

The stretch from 13 to 17 is so unimaginative that it casts a deep shadow on the entire experience. Perhaps because the player sees it coming from the moment he steps out of the car in the parking lot and gazes upon the dense forest. This is one sorry bunch of side-by-side, tree-lined clunkers with claustrophobic qualities - even the satellite view will reveal that. The 18th isn't much better, but will be given the benefit of the doubt by most players as it is a par 3 defended by a serious river.

Coming back to the positives, the 13th green is actually very close to the 18th tee, so there is the potential for a fantastic 28 hole day. The greenfee is not bound to 18 holes and the location of the course is very agreeable, as is the clubhouse, so why leave after 18?

What makes the first 12 holes so much better is that there is only some tightness and usually in spots, where the player can hit an iron without losing half a stroke. There are also a few open sections with panoramic views to mix things up.