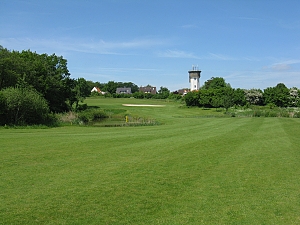 One of the oldest clubs in Germany and, despite an overhaul by Bernhard von Limburger, they still have the original nine holes. They are played as the back nine today, with the front nine being a commendable year 2000 addition by Wolfgang Siegmann. Although the site for the new holes is surrounded by roads and quite cramped, it serves its purpose well enough. Which is to make sure the course does not have to be viewed as a story of two nines.

In reality, of course, the old holes are grown-in and have some eccentric features that would not be built today. But there is good variety throughout the course and surprising undulations, considering the generally flat country that is Northern Germany. It's certainly an interesting layout with many strategic challenges, especially on the newer holes, whereas the original nine can be a bit penal, but make up for it with a good supply of old-fashioned character.

What the course lacks is flow, undoubtedly a function of the site's restrictions, but nevertheless an attribute of great courses that is missing here. And it's a crime that the ancient par 3, that used to play over a public road, was taken down and replaced by a forgettable hole. Apparently the club wasn't willing to fight for its history and tradition, after a reckless golfer hit a careless driver's car. That being said, it's a real fun day to play at Kitzeberg and quite faithful to the origins of golf in Germany.