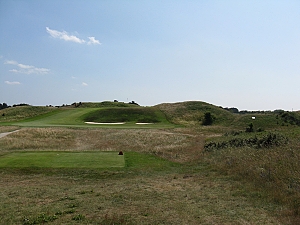 This venue consists of three glorious 9 hole loops, all designed by Harry Colt, although the last 9 have been built much later by Frank Pennink, who made a few changes to Colt's original routing. While the newer holes are more dramatic (or, if you will, less Coltish), they do provide a welcome addition to the more restrained original course. Confusingly, the new holes built by Frank Pennink are called A (or Van Hengel after a controversial historian, who claimed golf to be a Dutch invention), whereas the B loop is called Pennink, but is really a Colt design just like C, which is finally and correctly called the Colt course. The easiest way to avoid dealing with this bizarre naming scheme is by simply playing all 27 holes with lunch on the panoramic clubhouse terrace thrown in for good measure.

The site is part of Kennemerduinen, one of Europe's premier dune systems. Accordingly, the type of golf played here is links golf of the purest form. A number of holes look like they were built in the 19th century and never changed since: just a very basic playing corridor running wherever the natural landforms would leave some room. Colt's approach to golf architecture is well documented and on full display at Kennemer: mostly restrained, always sound, never devoid of strategic interest and whenever the routing appears to have settled in, a dramatic and unusual hole follows. And it could very well be a par 3, as Colt usually reserved the best green sites for them.

All the ingredients for great links golf are there, apart perhaps from the wind that might occasionally go missing on a site as far inland as this one. Also, the height of the dunes or rather the lack thereof does create a number of side by side holes. Finally, Kennemer will never be renowned for its sophisticated bunkering, the approach is rather utilitarian in that respect. However, these minor quibbles aside, the big picture is that of an outstanding links course that can easily accommodate the professional Tour player as well as the average club member. And that in itself is a rarity, since the Tour loves length and difficulty and abhors quirk, which pretty much goes against everything the average player seeks. But Colt has pulled it off in this case.