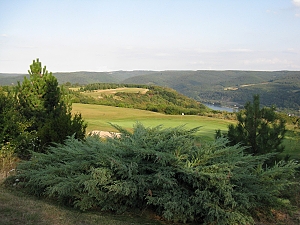 A great course set on a plateau above the majestic Rhine valley near the famous Loreley rock. The views are stunning, but the real star is the layout. There is no weak hole on the course, all of them are strategic, fun to play and memorable.

The course doesn't need any extreme features or gimmicks to make things interesting. It's all about balance here: there are undulations, some rather awe-inspiring, but it is a very comfortable walk. There are greens with substantial contours, but never over the top and never overused for the sake of spectacle. There are wide, long fairways and tricky, short ones. Every club in the bag will be tested.

The only thing missing is the feeling of being restricted. To be sure, there are some shots that have to come off perfectly and there are some places, where it is just not possible to hit the ball. But the general scenery is always wide open, even if the actual playing area is rather smaller. This cunning trick creates an atmosphere of freedom, no doubt helped by the plateau location, so the golfer will mostly look down on the landscape and perhaps feel a little bigger himself.

Despite holding up quite well in 3rd level Tour events, it is not a championship venue, but for the eager weekend warrior definitely a sporty challenge. Long term interest is guaranteed, because it is structurally sound and does not rely on one-off effects.