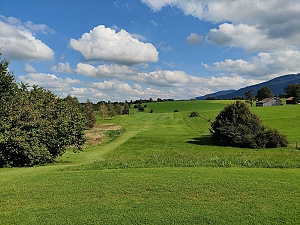 This golf course proves that if you have 9 good holes, you don't need 18. If the challenges are fascinating enough, then players will want to tackle them again and the advantage of a 9 hole track is that they can get to it immediately. Interestingly, the club has another six hole short course, so that real estate was even taken from the main project without ill effect. The routing is extremely good: it does go back and forth the small site repeatedly, but that isn't really noticeable. The undulated terrain certainly helps to screen the holes, but it also creates a whole host of ground game options.

Somehow it works to start the round with one of the shortest par 4s ever, followed by one of the longest par 5s anywhere. It's not a gimmick, but a function of the site and of course it provides a lot more variability than two medium-length par 4s. It's really a very small property, but it has a great mix of holes in two short par 4s, two medium-length par 4s, two long and difficult par 5s and three one-shotters. The last of those par 3s is the only repetetive hole, that basically occupies the space left over from the closing par 4, which is a super-classic finisher that should not be touched under any circumstances.

The greens are good, although one or two wilder putting surfaces would fit the bill. Unfortunately the soil is rather soft, but it does enable a considerable ground game in drier conditions. Several flags have to be approached with a bouncing ball coming in from the left or right. Naturally, it's not the longest of layouts, but an absolute masterclass in using the available land to the fullest. Navigating the quirky challenges is great entertainment and those, who only booked a quick 9, will definitely feel like they missed out on half the fun.