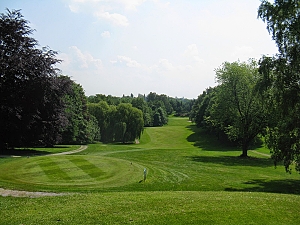 This course is a revelation for all lovers of rollicking fun on a classic routing. While it's definitely a parkland course, the greenkeeping staff tries hard to make it play firm and fast in the right weather conditions. Obviously, in the winter it will be wet due to shady fairways and the loamy soil, but for much of the year it can be in absolutely delightful condition. Numerous high-profile amateur events are staged here throughout the season, so demands on the course are high and it delivers the goods for sure.

The site is heavily undulated in the good sense, meaning that the fairways roll up and down much like the dunesland on some of the famous links courses such as Koninklijke Haagsche. Hubbelrath East can thus be played with hardly any forced carries, even the shortest of hitters always have a way to bail out. No matter how wild the terrain gets - and it gets positively crazy in parts - almost everything here is golf course and playable. The one exception being the clusters of trees found on the sides of some fairways and around the perimeter of the course. But make no mistake, the tree management of recent years has done wonders: the layout is not a ball-eater by any means.

The first couple of holes are still relatively straight-forward and allow the player to get a feel for the ground game and the undulated green complexes. A few quirks are inserted here or there, before the roller-coaster starts on the 6th hole and reaches a first climax with the rampant 10th. Just when the player pleads for some respite, the architect complies with the stretch from 13 to 15, before picking up the pace again and ending the round with another two mind-boggling holes.

Considering the very difficult site it seems a small miracle that the course flows as effortlessly as it does. Most holes are isolated from their neighbors and there is just one noticeable green to tee walk. It simply is a first class golfing experience and while many clubs aspire to that, very few of them have a course so full of character as Hubbelrath East.