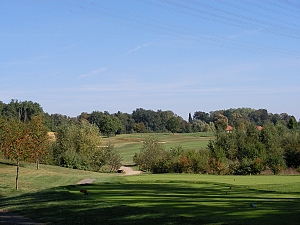 An electrifying course thanks to a number of rather noticeable high-voltage power lines. The golf is not quite as sizzling, even though it used to be marketed as an exclusive country club. These days it's run more like a regular Joe's club and the layout can carry that a lot better.

A number of holes have their own twist and a few are even memorable. However, in spite of the gently undulating site and the good variety, the routing comes across as somewhat unimaginative. A few holes are also rather boring straight-ahead affairs. Ultimately, there's not enough soul to warrant a higher rating.

Conditioning has improved considerably, though, so the course will provide an agreeable game and satisfy all but the loftiest expectations for an unoffensive day out on the greens. However, it does suffer during wet spells and in the shoulder seasons.