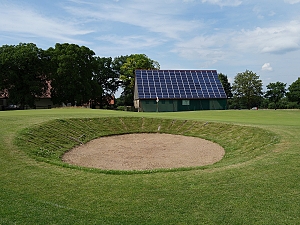 One of the most fascinating golf projects anywhere, they get everything "right" from being an inclusionary operation to upholding the traditional, non-elitist values of golf and presenting their core golf facilities as puristic as practical. The course is one large playing field and most of it is visible at all times. There is enough separation between the holes to comply with modern safety standards, but visually the holes flow into each other. The styling is "austere links" and most of the fairways are heavily shaped to create humps and rolls. While there are no fine grasses tee to green and thus firm and fast conditions aren't to be expected, the soil is meagre enough to produce appropriate playing conditions.

The stars of the show are definitely the fescue greens. They are undulated and putt true with manageable speed - just like it is the norm on a links course. Hats off to the members for accepting the somewhat scraggy look, which is not what German golfers are used to. But once they start putting and see that there is no wobble on the ball, it should be a no-brainer. Other unusual features are the bunker construction with wooden beams to support the walls and a flat entry for wheelchaired golfers. Not to forget the unstaked and waterless water hazards: chalk pits are simply what you get, when you dig a hole there and don't put any pond liner in it.

While the treeless site is perfectly rectangular, it doesn't look that way or feel manufactured, but rather comes off as a natural plateau, tilting towards the city of Paderborn. The routing on such a site is of course totally unproblematic, which enabled the architect to create a seamless flow of holes. It certainly helped that the concept did not call for "championship length", but rather catered to the average club member's game. The course is short enough to provide daily enjoyment and the back tees are also very playable for special events. In that regard, and also with its five par 3s, Haxterhöhe Links is a poster child for how to provide a great experience for less than great golfers. Golf needs more of these down to earth and yet high quality offerings.