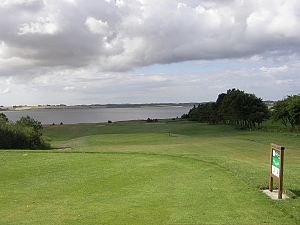 This is a delightful seaside course, not a links, but very refreshing all the same. It's more or less an open parkland course, that has lovely views of the Limfjord in store.

The scorecard does not suggest a championship calibre test of golf and indeed it turns out to be a very benign and cheerful course. Even those slightly off their games will thoroughly enjoy a round at Harre Vig, while those with higher ambitions can revel in attacking doglegs and making birdie putts. That is not to say that the course is a push-over, it is far from that, especially when the wind comes up.

However, the layout will allow the odd wayward shot, balls will not disappear out of the blue, there are no huge forced carries, the rough is kept in check and the greens are accessible to weaker players. The holes are still interesting to play, there are strategic options for those, who seek them. But above all the enchanting seaside setting makes everything look a good bit better than your ordinary golf course next door.