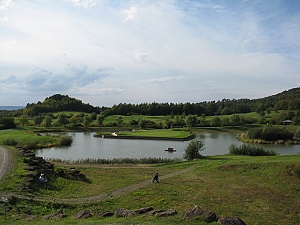 (Almost) everything that is good and bad about golf in one course. It's a completely mixed bag on the outside and yet, when stripped down to the bare bones, there is quality at the core. The Niedersachsen course at the Hardenberg resort is unmistakably modern - in fact it looks as if every hole had a different designer. The modern notions of brute force and "Tour style" are certainly there as well. And yet it is loads of fun to play for everyone.

The key here is the routing and the variety it provides on top of some of the most perfectly rolling land to be had. Every hole has its own, distinct challenge and is completely different from anything before or after. There's a lot of eye candy as well, which would be considered way over the top in most places, but somehow this layout carries it. Krause's cause is helped enormously by the course's conditioning: not firm and fast, but as close to it as can be on loamy soil - a great job on part of the greenkeeping staff and playable throughout the winter as a consequence.

This is eclecticism taken to an extreme - all for the sake of variety, but at the expense of naturalness and believable aesthetics. Conventional wisdom has it that "Best of" courses never worked and never will, but the set of par 3s here defies any such conventions. There is a short, old-style tiddler next to one that looks like Sawgrass #17 designed by Desmond Muirhead. Yes, it's completely contrived, but the golf is nothing short of great. If only they could make the greens a little slower, then the ground game would be more of a realistic option - the fairways are certainly up to it.

Despite not being easy on the eye, this modern course is one to play. It's an out and back routing, far away from the clubhouse, making most of the site and putting a premium on replay interest.