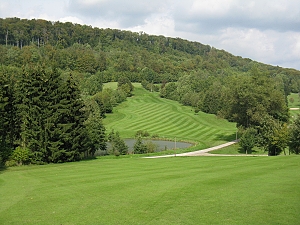 Not one of Harradine's very best, but kudos to Siegmann for designing today's front 9 in the same style. It's a rather undulated site, playing up and down a hillside and through a valley, but Harradine limited himself to only a few of his trademark over the top holes and Siegmann toned it down even further.

As could be expected from such an old layout, it is rather walkable considering the sometimes extreme terrain. And yet there is a little bit of something missing, rhythm and natural flow aren't always spot on and views are often restricted. The hole designs themselves are solid and the green complexes very slick and treacherous. It's not a short track either, so there are plenty of challenges to be found.

The course was clearly designed for the ground game. Very few aerial approaches are mandated, although the slopes to play over are often extremely severe. However, firm and fast is not on offer due to a lack of drainage. It's still a very impressive course though: old-fashioned and with championship qualities. The closing hole is worth seeing by itself and the rest is good fun as well.