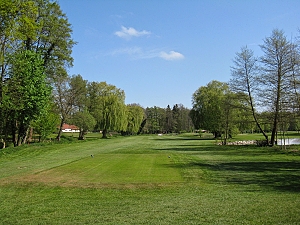 A course that used to stage Tour events in a time, when infrastructural demands were "must have a clubhouse and accommodate a handful of spectators." Nowadays it may be a bit short as well, but all the more delight it is for the members and visiting golfers. Still, the course record sits at 3 under par from the back tees, so it is far from a push-over.

Set within a very old tree population and not groomed to cold perfection, but to a very natural standard and with an eye for detail. Tree-lined fairways are often a problem, but the situation has been improving in recent times, when David Krause was retained for renovations. There still is a price to pay for the beauty, but it is not as high as it used to be. Many holes have room to play and even though some undulations would have been nice, there is enough variety to keep the discerning golfer interested.

Besides the trees there is ample water on the course, such as a creek that provides a couple of carries that are very keen even from the members' tees. The bunkers are definitely worthy of a championship layout, as are the fast and tricky greens. It's an inspiring course to play and while it may not be the most strategic, it certainly has its twists and the visuals are top-notch parkland.