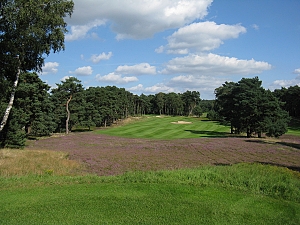 This course is viewed by many as the best in Germany. It starts with the Golden Age pedigree (top tier Harry Colt) with some additions by the foremost national architect (Bernhard von Limburger). Next up is the glorious heathland turf that would feel right at home in Surrey or Berkshire. And finally the rolling topography of the site is nothing short of spectacular, considering that Northern Germany tends to be pretty flat in general.

There is very little to be said against Falkenstein, perhaps the configuration (only three par 5s, two par 3s of similar length) is a smidgen below world class and there is tree encroachment in places. However, the fairways are surprisingly wide on most holes and the playing strategies are absolutely intact. The heather is alive and well, although a bit more of the conventional rough could probably be converted over.

Tree-lined courses often have boring highway-like holes, but here only #2 and #11 are relatively straight and that is just the right amount of diversion on a course full of doglegs and quirk. Every hole presents a unique challenge, the bunkering is vintage Colt (some modern alterations) and the green complexes provide great entertainment, but never go overboard. The same holds for the undulations of the site itself. There certainly are some hills to conquer and some valleys to drive over, but it remains very walkable and, for the championship minded golfer, completely fair.

The maintenance practices can only be commended and, for a course of this quality, it is quite accessible to reasonable visitors and extremely good value.