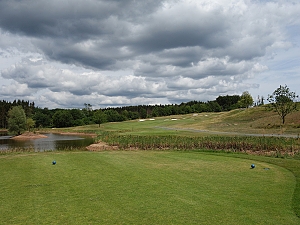 This is currently an 18 hole, soon to be 27 hole resort course. It's a fun layout, not too long and with enough impressive eye candy to make it worth a weekend trip. The site has some views from the top holes, but largely plays down and up an inclined plateau of man-made features. While the terrain is not too steep, it is still a bit of a chore to keep on going up and down the same slope. Routing in terrasses might have worked better, but probably at the expense of returning nines. Other expenses have not been spared though, it is a high quality build and professional shaping job.

The styling is more or less American with flashy bunkers and inviting ponds. The rough is kept down and there are almost no trees on the course, as befits a resort course that needs to keep play moving. One specialty here is that the fairway bunkers are not built for longhitters. The first line of sand traps is usually reachable by average hitters, who consequently need to think more than usual. On many championship courses the fairway bunkers are never in play for average drivers of the ball, but it is definitely different here.

The greens are quite difficult and often feature subtle breaks near the hole. While they are not penal, they will assert themselves on the player's scorecard. Other than that there aren't any surprising short game challenges, so most players will have enough game to enjoy this course. Ryder Cup aspirations, as they have been leaked to the press, are certainly more a marketing ploy than anything else. There is neither enough length nor the required infrastructure for that. Still, such rumours may attract guests to the resort and from the amount of money that has been spent here, the Ryder Cup angle seems believable.