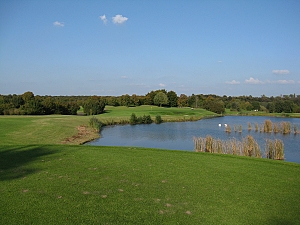 A championship venue with typical American styling. The course is actually fairly easy, so when the European Tour comes to town they have brutal rough to make it hard. But in day to day play it is wide and largely devoid of challenging fairway hazards. Most holes are clearly arranged and the driver can be used with little fear. This creates the unusual situation of a modern Tour venue being not overly long or difficult from the members tee.

It is one of the most expensive courses in Germany and thus immaculate conditioning and a splendid clubhouse can be expected. However, the down-to-earth mentality of the Cologne crowd - compared to perennial and glitzier rival Düsseldorf - makes for quite a relaxed atmosphere. And there isn't much on the course that could create anxiety either, even the water carries can easily be circumnavigated. This is perhaps good and bad at the same time.

Although the par 3s are all quite long, they are more varied with respect to club selection than on most layouts of this type. Really short holes are missing, but there are a number of moderately long par 4s and only one excessive slog on each nine. The greens aren't especially wild and the bunkering is eminently predictable. So at the end of the day this course is surprisingly playable, but there is a bit of sameness to it.