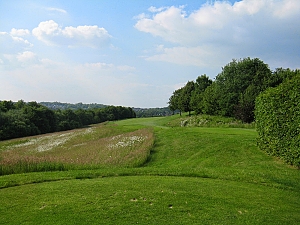 This is quite a fun course on a pretty severe site, but major routing issues make it hard to navigate. It does start with two relatively benign holes, before the first blind shots appear with no indication of the correct line. This theme continues for much of the round, the club would be well advised to put up directional marker posts in a number of spots. There is also the additional hazard of public foot- and bridle paths being run through the course in several places, which first time players might not be aware of.

The course picks up speed for good on the 4th hole, which is a supremely difficult par 5, although the other four three shotters aren't far behind. After that there really is no obvious stretch to score on. Mighty uphill struggles alternate with blind downhillers, not the least of which is the closing par 4. The very firm greens add to the challenge - average players will have a hard time holding them.

While there is no shortage of dramatic moments, the site is not ideal for golf. The undulations aren't flowing like waves, they are very irregular and it is hard to get a feel for the playing angles. Some laborious green to tee walks impede the flow as well: Grevenmühle is far from a routing masterclass. Views and detail construction are a bit average as well. But on such a spectacular site it's always good fun to bunt it around and burn off a few calories in the process.