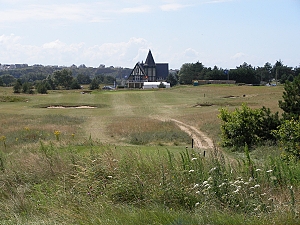 Not quite as ancient as some of the traditional Scottish links it is modelled after, but certainly close in ambiance and design. There have been numerous modifications made over the decades, Fred Hawtree having a hand in some of them, but the set of par 3s must be vintage Colt. The 2nd and 10th can break any card, while the 16th is utterly charming. The other two specimens aren't slouches either.

The course is set back a bit from the sea and there are some disagreeable industrial buildings on the perimeter, so this is one to play rather than to savour. It's not a glorious dunescape, but it is rough and tough linksland that is kept very naturally. So naturally that in fact the rough can get very long and thick. Staying on the fairway - never easy on bumpy links courses in the best of times - is of primary importance. The greens are true, undulated and challenging - in other words: proper links greens.

Granville also has a shorter 9 hole course closer to the sea called "Le Bord de Mer". The official name of the main course is "Le Links" and that is a very appropriate name. It is probably

the

links in France.