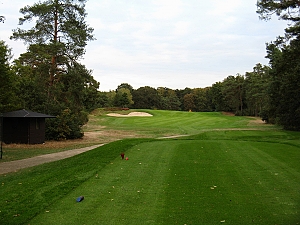 The club in Frankfurt was founded in 1912, but the original course is lost. The present layout is routed through a densely forested area, which used to be outside the city limits. Nowadays it is centrally located in Frankfurt and suffers a bit from traffic noise and on some days airplanes taking off.

The trademark of the course are a number of stern, long par 4s that aren't overly exciting to negotiate. While they undoubtedly provide much of the difficulty that Frankfurter is known for, they are also not very variable in their strategies. Especially the front 9 is a series of long, flat, straight, tree-lined bores, although the fairways would be wide enough to provide lines of charm. The back 9 is better, a few shorter holes and a dogleg or two appear plus some interesting undulations in the fairways.

Although the turf is quite good, it is very far from playing firm and fast. The trees leave much of the course in shadows for extended periods of time and shelter it from the wind. The green complexes could by their design provide some entertainment, but without air and sun they will probably never play like Colt and Morrison intended.

Indeed, considering the architects' pedigree, this is a rather weak offering and the recent renovation by Christoph Städler wasn't exactly done in a classic spirit either. Frankfurter today is one of the leading championship courses in Germany and many of the country's best young players are educated here. It is not a bad course, but only fragments are evocative of the Golden Age of Golf Architecture.