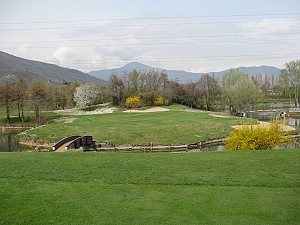 There are precious few Pete Dye courses in Europe, but this is one of them and it still shows the hand of the master - although some of his idiosyncrasies have subsequently been changed. But elements like the crazy wall across the 6th fairway are of unmistakable pedigree and certain to please any connoisseur. The on-site man was co-architect Marco Croze, who presumably had the job to make sure that the place has an Italian rather than an American feel to it - good work on that front!

Therefore this is not a typical Pete Dye course, it is much more subdued and less in-your-face than most would expect. Play is actually fairly relaxing, there is none of that keeping the player constantly on his toes. However, a good bit of thinking is still involved when trying to find the right type of shot on this strategic layout. In fact, there are two holes on each nine, where long and straight driving won't do the player any good.

There is a third nine on site (Rosè), but the Brut and the Saten loops are the championship layout and work well together with the exception of a connector walk from 9 to 10 that contributes to the annoying practice of cutting in at the 10th. While at first glance this course may look similar to a million other parkland layouts, it is actually very well designed and tons of fun to play.