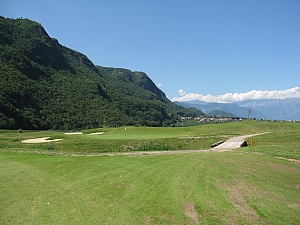 A flat course in the mountainous region of South Tyrol is a rarity, but there is a large valley between Merano and Bolzano, which is primarily used for apple orchards. Parts of these plantations near Eppan have been set aside for a golf course and the first 9 holes are open for play. The uncharacteristic flatness of the site - in stark contrast to the towering mountains all around - has led to a design decision involving lots of ponds and ditches. Hence the name of the course, although it must be said that the water hazards don't come into play any more than on most other courses.

The other difference to the original Blue Monster in Florida is the yardage: the Eppan version is not nearly as long and tees are assigned according to handicap. The holes are fun to play and there is a bit of variety. Nothing unusual or unexpected, except perhaps for the huge greens. The concept is clearly meant for 18 holes though, so the currently open 9 do come across as unfinished business. However, it is solid golf tee to green and the surrounding landscape is just breathtaking. The property appears to be lowered into the ground somewhat, so all that can be seen from the course are the mountains. Smaller features like roads, industrial buildings or agricultural machinery disappear behind the extensive mounding.

Despite the plausible design concept, it's still a golf course waiting to happen, even though a hotel and clubhouse have been built meanwhile. Hopefully this strategy is not as ill-advised as the maintenance practices were at the beginning. The Blue Monster was grotesquely overwatered, even during play the sprinklers were turned on to keep everything wet. This questionable practice seems to have subsided somewhat, but now the greens have developed scarcely visible micro-undulations around the pin positions. As a result, short putts played directly at the hole will miss with regularity. So hopefully this project will get off the ground, because it is generally a welcome addition to Italian golf in this area.