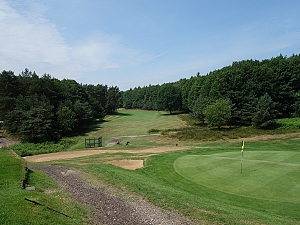 You don't get permission to build a golf course on heathland in Germany. Unless you're the Royal Air Force and it's the 1950s - then you don't have to ask and so they didn't. When the RAF left in 2001, they turned their base over to the British Army, which passed the course on to a newly founded German club in 2015. And so, thanks to the Brits, Germany is one heathland course richer and what a gem it is!

The front 9, while a bit on the short side, must rank as one of the best in Germany. It has strategy, quirk, sandy fairways and heather galore. The 10th is actually the first weak hole and a few more follow after that, notably 17 with a ridiculous pond and the featureless 18th. With a little bit of money this could be a Top 10 course in Germany and with a lot of money (redesigning most of the green complexes to make them a bit more interesting) it might even challenge a few of the heathland greats in England.

However, a game at Elmpter Wald is already a delight and the journey to get there - through a maze of rotting military installations - is quite unique as well. The course itself sits peacefully in the middle of nowhere, there is nothing but nature and a few golfers for miles around. It's hard to find a more serene and down to earth place and the slightly involved logistics certainly help to preserve the hidden gem status.

It's a shame about the handful of bland holes, but the stretch between #3 and #7 is epic: "driveable and blind par 4, majestic par 5, driveable par 4, majestic par 3, spectacular par 4". The back 9 has another great sequence from #11 to #13, which adds "short par 3, short risk/reward par 5, monster par 4". So there's a lot of variety and very little mindless hitting involved. Here's hoping they'll find a benefactor to help preserve the heather. For starters they could route the footpaths around it instead of right through!