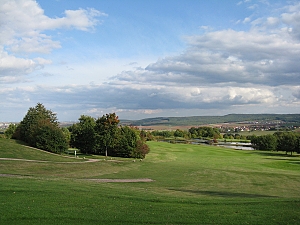 In Germany Don Harradine apparently was the go-to guy for undulated sites. As such his courses always deliver drama and excitement, but sometimes can be rhythmically challenged due to the many climbs and descents. In this case, however, he found a good mix by routing the first hole over relatively level ground and then enter a spectacular roller-coaster over the next five holes before letting up a bit until the end of the round. That is not to say that there are any flat holes on the course, but it remains walkable that way.

The Donnersberg (Thunder Mountain) is the largest hill in the region, that otherwise is dominated by vineyards and small, agricultural villages. Even though the course is only in the foothills, there are panoramic views galore and no industrial or residential eyesores. Another strong point is the relative remoteness, although some of Germany's larger cities are only an hour away.

Most of the holes are expansive, fully fascinating and offer real strategic options. More than once the player actually contemplates leaving the fairway for a shorter route to the green. Speaking of which, they are nice and only slightly undulated, as befits a course of this type. Were there not three or four somewhat pedestrian holes, the Donnersberg club could have one of Germany's best layouts.