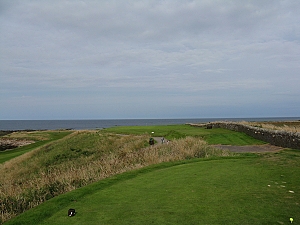 The epitome of the great, traditional links by the sea. The entire course plays at sea level, two loops out along the beach and back inland - except that inland here is still very close to the sea. The higher-level cliff is only used for the clubhouse, the first tee and a brief stint between green #13 and tee #14. Obviously, the view from the clubhouse as well as the first tee is grandiose, as parts of the entire course are laid out in front of the golfer.

There are no dunes or excessive shrubbery to seperate the holes, which at the same time is a strength and a weakness of the course. The latter being that golfers looking for seclusion and tranquility are at the wrong place. However, those looking for unobstructed sea views from every hole will love it. As will anyone looking for a great, quirky layout that is tons of fun to play, views or intimacy notwithstanding. The four(!) par 3s on the back 9 are especially outstanding holes, the likes of which cannot be found anywhere else. Highlights of the front 9 include two successive par 4s, where the drive has to carry the beach.

As far as playability goes, it's not a long course on one hand, but it's a par 69 on the other and the wind always blows so close to the sea. The turf is completely appropriate and the greens are true links greens, tough to attack with an aerial shot, subtly undulated and speedy enough. Due to the open nature of the terrain there isn't much blindness and fairways are occasionally and inadvertently shared between holes. Modern courses would have internal out of bounds at these spots, but this is not a modern course and thankfully so. It is not hard imagining Old Tom Morris walking these links or, for that matter, feeling a bit like him at times.