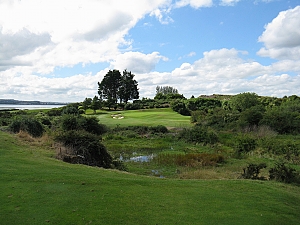 This is not a links course and strictly not even a seaside course and yet it feels every bit like one. It is located on Little Island, a peninsula near Cork on the banks of Lough Mahon, which is a widening of the River Lee, shortly before it discharges into the Celtic Sea. The middle part of the course plays along the river and through a quarry, while holes 1-2 and 14-18 are more inland. The natural tendency would be to reduce the course to the stunning "river and quarry stretch", but that would be a gross misrepresentation of its quality.

First off, this is a beautifully presented Alister MacKenzie design throughout. There has been some controversy over a bunker redo by the Hawtree firm, but the traps are certainly the defining element of many holes and in their bold and assertive way do provide the typical MacKenzie flair. And the routing comes across as a small wonder: the site is ideal for golf, but also rather small and crooked. And yet every hole seems to connect perfectly to the previous. Even the final four hole loop, that plays around the driving range, is an astounding feat of creativity. And yet it's every armchair architect's dream to come up with a plan that moves the practice area in order to create a fourth par 3 (perhaps playing to the superb 16th green complex) and a fourth par 5 (perhaps as a risk-reward closing hole).

The turf drains beautifully and will play firm and fast in the right conditions. While on some holes the putter is a viable option from off the green, most have a collar of grass around them, which makes chipping a necessity and also a proposition from hell, when short-sided. For example, when missing the 12th green left, bogey suddenly becomes a good score to a left pin. Not that the long game is easy, but the short game will be tested thoroughly at Cork.

Some idiosyncrasies like driving over the previous green are part of the package and add charm as well as complications. The club gets away with it, because it is primarily a members' course and not geared towards the four-ball, two-cart Tourist group. In that sense it's a rarity in Irish golf - a world class course as yet undiscovered by the crowds.