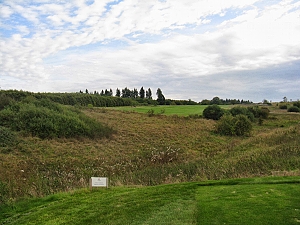 The loamy, clumpy soil and the discontiguous site make this course a less than attractive proposition. Although the terrain does offer some good movement and a few nice views, it is parcelled into a number of unrelated strips of land with recreational housing taking up the space in-between. Holes 1-5 are across the road and rather pedestrian designs. Then it's back to the clubhouse for holes 6 and 7, which are adjacent holes playing down and up the same hill. A veritable routing disaster, which incredibly is repeated by holes 8 and 9.

The back 9 are the redeeming factor here, with only one big loop and a number of undulated and tricky holes winding their way through the property. Although it has to be said that the walk from tee 17 to fairway 17(!) is another routing blunder. At least the hole designs are more interesting than the very formulaic front 9. On the other hand the green complexes do not exactly foster a creative short game at any time during the round.

Even though the course seems to be designed for firm and fast, as all greens are open in front, there is no way that it can ever aspire to offer a decent ground game.The soil is just too heavy for that. Maintenance appears to be on a tight budget as well, seeing that the course is just an appendix to the actual business, a recreational housing development. The plateau high above the Mosel river certainly has its charm, but the golf course is too weak to carry the resort.

The venue also has a shorter 9 hole track called the Eifel course.