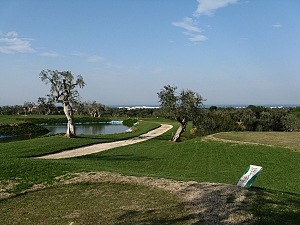 An ambitious 9 hole pitch and putt course set within a beautiful mediterranean vegetation. The greens are surprisingly large, quick and undulated for such an operation and quite obviously a lot of thought went into the hole designs. However, the site, spectacular as it may be, is not ideally suited for the purpose.

It is to be expected that especially beginners will frequent a pitch and putt track, with the occasional better player wishing to work on his short game. Gaping ravines, deep rough, native areas, tight fairways pinched in by massive olive trees and all-or-nothing island greens are simply too difficult. Even better players will be challenged on some of the holes.

The other problem, unusal for such a small site, is walkability. In order to unlock the most spectacular parts of the terrain for golf, the players must negotiate some longer green to tee walks. Nothing that would be talked about on a regulation course, but the time it takes to complete these nine small holes is startling.

It is beautiful and spectacular, but overly ambitious and in search of a target market. Replay interest could be higher with a more sensible design and less severe maintenance practices.