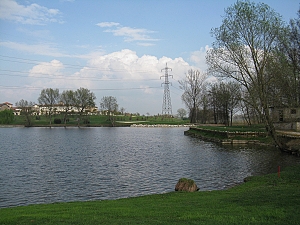 This 27 hole complex is similar to an American style golf resort, where services are plenty and the clubhouse as expansive as the course. Interestingly, in this case the price tag doesn't show any signs of aloofness, it's surprisingly affordable to play here. In that sense it is a good and practical golf course, where everyone is welcome.

However, there is no hiding that it sits on a flat, agricultural site and the design is correspondingly formulaic. Fairways are extremely wide and not very challenging, the sprawling bunkers are mostly off to the sides and the inevitable ponds are standard fare. The course is designed to keep play moving quickly and thus devoid of any time-consuming elements.

Conditioning is fine for what it is, so those looking for an uncomplicated game could be much worse off than at Chervò San Vigilio. Kurt Rossknecht, the architect, has built a number of such courses. It's probably hard to fall in love with these generic projects, but they still need to be competently done and that appears to be the case here.