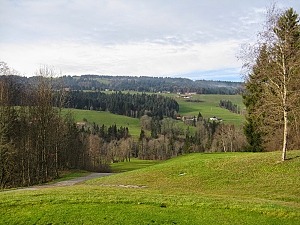 Kurt Rossknecht has designed a number of courses in and around the Alps, some of which are located on pretty challenging sites. Bregenzer Wald is no exception, it is situated on both sides of a narrow valley, which is bisected by a stream. Therefore all holes have a good supply of sidehill, uphill or downhill stances.

The routing is quite inspired, as the first nine holes twist and turn around themselves like a spiral, before the stream is crossed to play holes 12 through 16 on the other side of the valley and then coming back for the final two holes. The 18th is a long par 3 and can only be considered a connector back to the clubhouse, but the rest of the course uses the terrain magnificently to create challenges that are interesting and sensible at the same time.

Although there are many short holes, not all of them play short and there is often enough room to employ different strategies - not a small feat on a mountain course. With the exception of one or two shots (most notably the 2nd on the par 5 17th, which invariably will end up out of bounds) the routing can be figured out by a first time player. Care must be taken only when the ground is dry and running fast, otherwise this is a very playable layout.