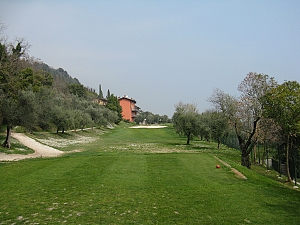 While golf has been played here since 1912, the current front 9 were built in 1952 and the extension to 18 holes stems from 2004. A comprehensive redesign of those newer holes is almost complete, it aims to reduce the number of par 3s from 7 to 5 and thus bring the par up to 70. As it is, the current nines are both quite playable, with only the connection between them being a bit awkward.

It's all about the routing anyway at Bogliaco. The first hole is a long and flattish par 5, which should be utilised to get all warmed up for what follows. It's up, up, up the hill in terrasses until the majestic tee of the fifth hole, which is highly unique and ideal for a little breather. There is a grand view of the church presiding over the golf course and Lake Garda in the distance.

Once back down in the basin, a couple of quirky, flat holes follow with the 12th being a driveable par 4 that gave up a hole in hole a few years back. The 14th climbs up again for a last stint in the foothills and the final two holes are taking the player back to the clubhouse on relatively level terms. It's a journey worth taking, although conditioning is not up to the same standards as on the more high-profile (but also way more expensive) courses nearby. It remains to be seen what the current redesign can contribute towards a hidden gem status.