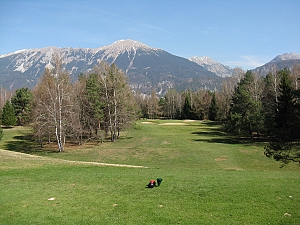 Clearly a classic layout with the usual assortment of quirky and traditional holes. Unfortunately the course has fallen into disrepair and cannot play true to its pedigree anymore. Structurally it is intact, so a restoration would certainly be possible and, considering the natural beauty of the surroundings, a promising option.

As of now the soil is terrible and too loamy to accommodate any kind of conditioning that would do justice to the qualities of the routing. The greens are only gently undulated, but making putts is a chore due to unintentional "breaks" and all kinds of different speeds. The choppy ground does not create many short game options either.

The best part of the course are the bunkers, they constitute a master class of strategic positioning. While not being particularly tough to play out of (after removing the stones), they are particularly easy to find. Hitting greens requires precision, even though most are open in front. But in many cases this opening is at an angle and lures the running shot into one of the sand traps.

It's still somewhat worth playing the course, the scenic landscape will always be there and the general atmosphere is very friendly. Many holes are pretty good, too.