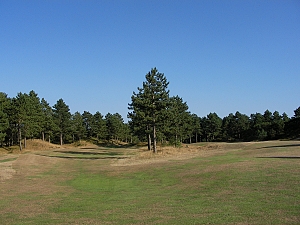 A seaside course that is often overlooked in favor of the championship heather course in Esbjerg or the true links in Fanø close by. Blåvandshuk has a little bit of both plus actual sea views.

The first 9 holes are very open, relatively flat and close to the sea. They draw their interest from a network of ditches, which apparently were used as drainage channels in these former wetlands.

The back 9 is routed through a sandy pine forest and overgrown dunes. As expected, playing conditions in this part of the course are firm and fast. The last two holes emerge from the forest and hug the sea again.