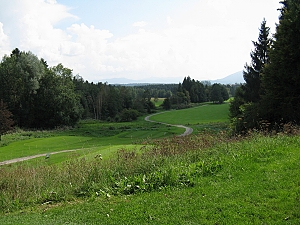 One of a number of Harradine designs in Southern Bavaria, Beuerberg is known as much for its well-connected owner and renowned kitchen as it is for the course, which in the 1990s received accolades in the German golf press. It was carved out of fenland, which certainly makes for some beautiful vegetation, but also poses challenges for even the best of drainage systems. A few holes in the middle of the back 9 are still surrounded by some of the pure marshes that once covered the entire property - a most unusual and stunning sight. Hence, Beuerberg is not an easy course to score on, it plays long due to the lack of roll except in the driest conditions, when some fairways will actually split open.

The site is big enough for 36 holes, so the existing 18 spread out very generously, but for some reason two longer green-to-tee walks were not eliminated. Other than that it is a very harmonious routing with gentle undulations and very easy to walk. The hole designs are also quite solid, if not terribly quirky. A few more tricky challenges along the lines of the short par 4 10th might have been fun. But there is good variation and outside of the turf there are no obvious weaknesses. Alpine views, albeit distant, are also part of the good weather package.

Quite a pleasant surprise for such an old course is the tree situation: they do come into play in some spots, but it always makes sense and the player rarely feels restricted. Then there's the huge double green in front of the clubhouse, very true and sporting a decent pace like all the putting surfaces. The greenside bunker defends both pins, so it may see action from players approaching 9 and 18 at the same time. There aren't any huge forced carries off the tee, so shorter hitters should be fine, while average hitters will be challenged by the ditches crossing a few of the fairways right in their typical landing zones. The very well-balanced layout should create fun and challenges for everyone.