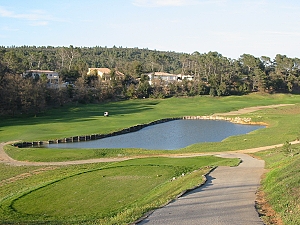 One of only a few dyeabolical courses in Europe and it surely doesn't disappoint. The course is routed through nice, rolling terrain with vineyards and whatnot - the landscape has a definite French chateau feel to it. The front 9 are hilly and the holes come in crazy shapes, while the back 9 are flatter and garnished with ponds.

There is hardly a shot out there that offers respite from the constant barrage of mental challenges that the Dyes throw out. Many hazards look like more than they really are, while others are hidden, until hit into.

Nevertheless, the course isn't overly long, so playing from the right set of tees should make it enjoyable for everyone. Still, rounds can get long. Also, there are residential homes lining the fairways, but in most cases they are hidden behind trees or at least sufficiently set back from the fairways. Other than that this is certainly one to see.