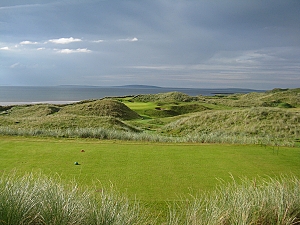 Among Irish courses Ballybunion Old is often rated a tick above the rest, even though it's not different in character - a links course that plays through the dunes. It's the quality of the individual holes and how they are seamlessly tied together to form one of the most exquisite routings in golf today.

Even before teeing off one of the most iconic features in golf makes its presence known: the ancient graveyard, which shouldn't come into play, but somehow the club found it necessary to erect a sign that no balls may be retrieved from it. The first three holes are all strong and then perhaps the only lapse in excitement occurs with back to back par 5s playing inland, before the 6th hole makes a sharp turn left towards the Atlantic. It would be too harsh to call Ballybunion a 16 hole course, the 4th and 5th are solid, but from the seaside 6th green onwards solid turns into dramatic.

In the past the occasional critic bemoaned too much rough and the poa annua greens. Both issues have been taken care of, there are now true links greens and enough room to play in the wind. Variety around the greens is incredible: a near-perfect mixture of chipping and putting, while being short-sided is always hell to recover from.

The card for the Old has five par 3s, which is a slightly unusual configuration, because normally it's one or two of the par 5s that have to go, when space is at a premium. However, this is not the issue here, as there is more than enough unused space around the back to back par 3s at #14 and #15. The truth is that all of the five one-shotters are exceptional holes of varying distances and directions.