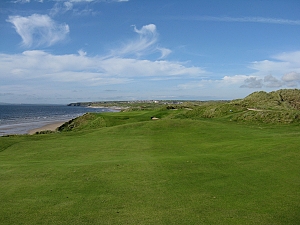 The most spectacular dunes at Ballybunion aren't on the Old course, but on a site next to it, so it is no wonder that the club decided to build another course there. It is not your grandfather's relief course, though. The Cashen in many ways turned out to be even harder than the Old, mostly due to the severe terrain and the target golf requirements on firm and fast soil. Robert Trent Jones is a legendary parkland architect and so his take on links golf was always going to be refreshingly controversial.

Like its sister course the Cashen has five one-shotters, but unlike the Old it also has five par 5s, while the par 4s are mostly of the short variety. A common theme are the massive speed slots, which are seen on perhaps one or two holes too many, but they are needed on the innovative 8th, which would be a par 6 otherwise. Other hitherto unseen holes are the 5th, where you have to drive away from the green and the two par 5s at #15 (drive and blind 2nd shot) and #17 (pitch to the green), which combine for three of the most exacting shots in Ballybunion.

The severe and dramatic property gives up a lot of memorable holes, but asks for a number of considerable green to tee walks in return. The flow is thus not quite as organic as on the Old course, which is a bit of an unfair comparison, considering that most every routing pales in comparison to that. Thus many players on the Cashen ride in carts, which alleviates some of the toil, but also detracts from experiencing the essence of the site.

At the end of the day the Cashen edges the Old in terms of quirk and scenery (no trailer park!), but fails to come across as a course instead of just a collection of holes. It also fails to do a proper job as a relief course, because it insists on being a destination of its own. It has the qualities for that, but "next door" is too tough a nut to crack.