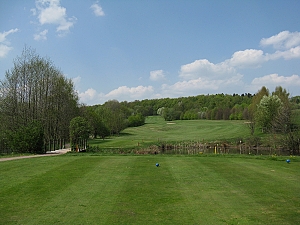 An idyllic course routed over undulated, but reasonably walkable terrain. There is copious variety at the start and towards the end of the round. In-between a small number of filler holes appear just when it would be time to up the ante. It doesn't help that the site is divided into three plots, which necessitates some walking, although most of it is quite tolerable.

Rhythm might suffer here or there, but a handful of holes are very memorable and most are a lot of fun to play. As are the greens, which are unusually quick and in places even devilish. The par configuration starting the round deserves a mention as well: 3, short 4, 5, 5, 3 means that the player can get off to a flying start. There are only two really long par 4s, so opportunities to score are plenty for average hitters.

All in all this course is very good, certainly scenic enough and with a fair amount of excitement and quirk. Winters are harsh in the area, but due to its elevation it's a great getaway from the summer heat.