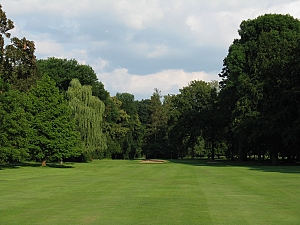 A relatively short 9 holer (par 34) situated in an old park that provides plenty of welcome shade on hot summer days. The first course on this site was built in 1904, but today's layout stems from 1930.

The colonial style clubhouse is something to behold, the course more or less ok. The trees are not encroaching too much and there is hardly any rough, so balls are rarely lost. On the other hand the terrain is flat and the hole strategies too similar. Some holes are also very close together.

Not a good track to play in soggy conditions, but very refreshing on a hot day, when other courses are baking. The club, despite its long tradition, is not stuffy at all, but very welcoming and friendly. It is really a very charming old-style atmosphere here, if only the routing had a little more variety.