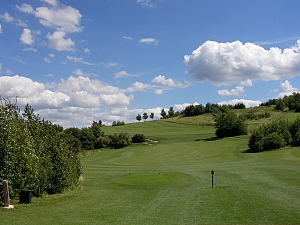 A beautiful and extremely quirky course with a superb back 9. It starts out with a standard par 3 and picks up speed gradually over the next two holes. Then #4 through #8 play in terraces up the front portion of the site and demand precise shotmaking.

A phenomenal stretch of holes begins with #9, a short par 5 that nevertheless demands two perfect shots and a pitch. Unless of course one were to risk a long, blind second into the woods, hoping to hit the clearing. The next few holes run up to a historic radiotelescope, emerge from the forest on the other side and roller-coast home over open and very undulating terrain, not to mention the breathtaking scenery.

It plays much harder than it looks on the scorecard, especially in dry conditions, when the ground game becomes paramount. Uneven lies are common and there is a fair amount of blindness. The greens are small, undulating and fast - a combination that creates a formidable challenge or spells imminent doom, depending on the mental state of the player. Legions of overly ambitious low handicappers have been destroyed on this course and, like any course they cannot overpower, rate it as "not golf". However, for the discerning golfer with a sense of humour it is tons of fun.